As you know, each week have have challenges to push ourselves to excel.
Today, I introduce you to our first GROUP SHINE PROJECT.
What's that you ask?
Let's see how much good we can do as we pull together
for the same cause.
Let's show the world what The Shine Project can do.
Here's what our first GROUP SHINE PROJECT is,
and dang am I honored to be a part of it.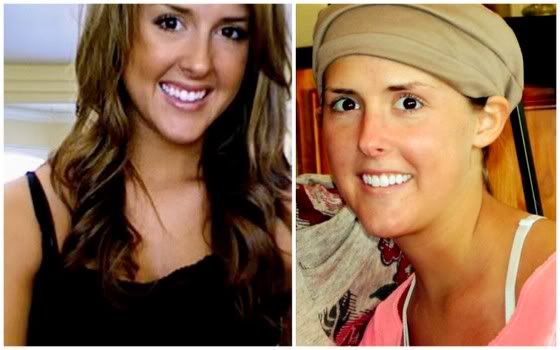 This is Michelle. There's just something about her that glows, isn't there?
These pictures are before and after her diagnosis with cancer.
My "trials" always get put in perspective when I hear about others
who are going through something WAY beyond anything that I could imagine.
Michelle's tight group of friends contacted me with her story.
Get ready for this...
"On Sunday, December 12, 2010
Michelle Long was diagnosed with a very rare ovarian cancer.
Only being 20 ,and the cancer already being in stage 3, makes it even more rare.
About a week before she was diagnosed she complained of a bloated stomach, and pressure in her lower abdomen. She assumed she had a bladder infection a
nd tried to rest until she felt better. The stomach pain continued.
A visit to the Minute Clinic told her that she was absolutely healthy and just needed rest.
That Sunday the pain was unbearable and her mom took her to the ER.
Ultra sounds showed cysts on the ovaries,
but surgery showed that the tumors were actually cancerous.
She was taken to Dr. Mike F. Janicek, Gynecologic Oncologist,
who diagnosed her cancer and removed one ovary and her appendix. Within 8 weeks of having her cancer it had already spread to her lymph nodes and abdomen.
The intense pain was due to the fact that the tumors had actually ruptured her ovaries and Michelle was experiencing internal bleeding.
She will have to go through aggressive chemo beginning January this year.
It will consist of 5 days a week then 1 day a week repeating for 9 weeks.
She will loose her hair by the end of January 2011."
Michelle's friends have created a
blog
to help raise money for her and her family.
They have also created a way for others to show Michelle some love!
SEND A LETTER to Michelle
HERE
.
I wanted The Shine Project to contribute to Michelle's chemo treatments.
There is currently a
SHINE necklace up for bid
on Michelle's website,
with all proceeds going to Michelle's family..
If anyone is willing to help,
I know it's The Shine Project viewers.
Even if you can't contribute financially,
you can contribute through letters and love to Michelle and her family.
PLEASE email me to let me know if you send letters or bid.
I want to document our impact on others throughout the year.
ashley.theshineproject@gmail.com
Let's Spread the Shine.