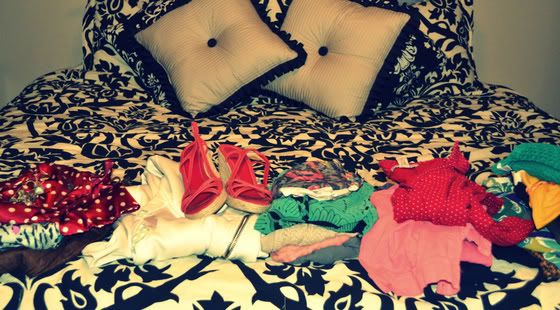 What's with all the clothes on my bed, you ask?
This week's SHINE Challenge!
I feel like I always say this, but I am REALLY excited about this one.
This week's Shine Challenge calls for some spring cleaning,
and for the willingness to let go of something.
If your closet looks anything like mine,
then you know that you have clothes you havent worn for a while,
but keep hanging on to them in case you just might need it!

Last fall, I gave a very sweet high school girl a bunch of my clothes,
because I knew she needed them a lot more that I did.
She sent me THE sweetest thank you card,
and I realized that parting with some beloved tshirts was the least I could do.
This week's Shine Challenge is to donate clothes to a charity or a
person/family that could use them a lot more than we could!
When I cleaned my closet last week for this purpose,
there were shirts with tags on them still that were so hard to let go of.
But then I thought, I don't really need this!
As I have been bed ridden because of my knee,
I have had to rely on my husband and family to help me.
I really can't do a lot of things by myself, and it's so frusterating.
There are SO many people who just can't buy new clothing for themselves,
and I realized that they don't have anyone to rely on for that.
Let's give them someone to rely on this week.
Let's make someone's YEAR, and make them feel good about themselves!
I know just where my clothes are going! :) :) :)