You're about to be introduced to the room where I spend the majority of my time.
(I say half because the other side isn't completely done yet, so there will be a part two coming soon)
In this little space I tune out the world to write my book, make my necklaces, connect with you, and get hand cramps from typing so much. It's the place where I fall out of my chair and lay on the floor to recoup, and where husband knows to look for me when he gets home. Welcome.
Door knobs to tie the string that hangs my pictures
Mason jar picture frames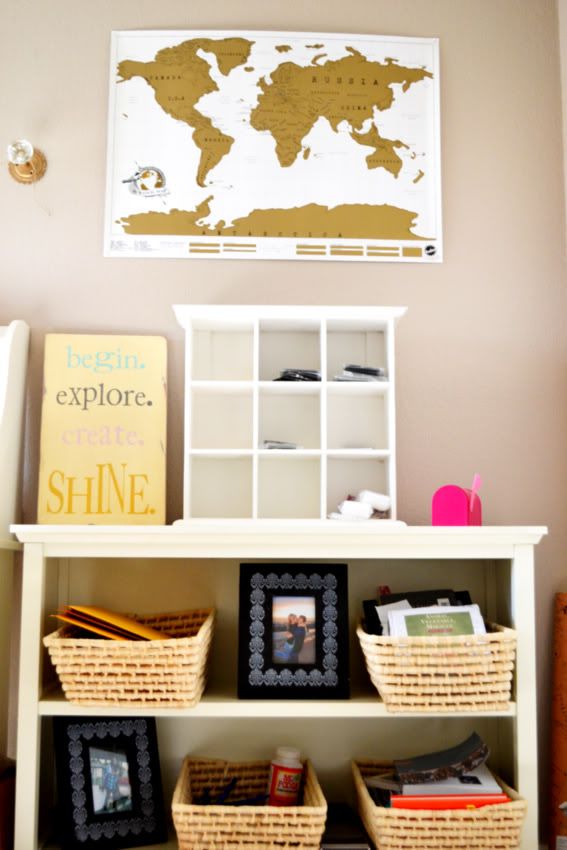 My sign from Barn Owl Primitives that reflects what I try to do each day. And what's that little pink mailbox, you ask? Mike and I leave sappy love notes for eachother in it.
My favorite new purchase I got last week! I still need to finish it, but it's a scratch off map. I use it to mark the places around the world that I send SHINE necklaces to. You could also use it to scratch off the places you've traveled to... I love it
My work space. And my reminder to keep calm everyday from Cait Create.
And there it is my friends...well, some of it anyways! Most of the things in my house and office I repainted or made myself. That's another way I release some creative energy. I love having light colors surrounding me because I feel like it positively affects my mood. I don't need things to be fancy, but perfectly designed so that I can escape into my own little world.
What's your must have in "your space?"
PS: Dont forget to link up DIY house projects, or rooms in your house you love on Friday!
***A lot of you keep asking where the map is from! I got it online from Urban Outfitters***