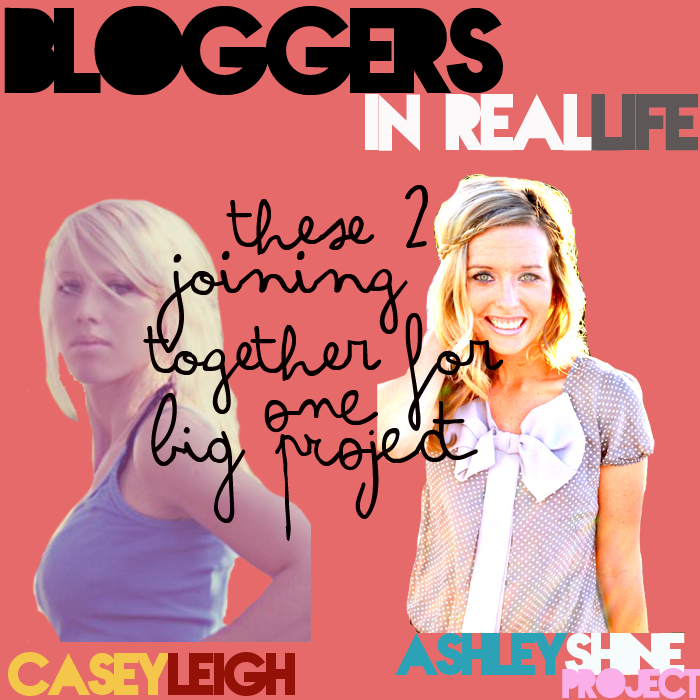 Creating, sharing, and inspiring connects us all together. Every day we are drawn to blogs that make us feel something, and we take a little piece of it with us. Behind every one of our favorite blogs, there's a person. A person with real emotions, fears, goals, and weird quirks that we never really get to experience first hand. We've brought together your favorite bloggers to give you a more intimate take on their lives, so you can catch the little details that make them who they are. Every Wednesday, we'll be capturing the lives of the people behind your daily reads in a way that you wont experience anywhere else.
So get ready. We have lots to share! xoxo
Each week on
Casey's
blog, you will hear a more personal story about one of your favorite bloggers.... why they are the way they are, stories on loss or happiness, struggles or triumphs...we want to have them share the happiest moment of their life, or a time that they grew stronger because of an enormous trial placed in their path.
On my blog, they will be sharing any advice they have for you readers. It can be about fashion, being a mom or wife, how to grow your blog, how to start your own business, etc. Whatever their niche is, you will hear their expert advice!
I am SO excited about today's blogger! When I first started blogging I found her YouTube Channel, and fell in lovvve! She's a European blogger, and you are going to be touched by the personal story she's sharing today on my blog...
--------------------------------------------------------------------------------------

Hey guys! My name is Anna and I'm so flattered to have been asked by Ashley to guest post on her amazing blog! I blog HERE, and write a fashion & style blog, although I don't consider myself to be the most fashion-forward person in the world or anything! I'm just a regular girl who takes pictures of what I'm wearing or what beauty/make-up items I'm loving lately mixed in with a bit of personal insight to my daily life!
Ashley has asked me to blog about a personal story -- something that has made me the person I am today. I try very hard to be quite a positive person, but sometimes it's the negative or not-so-great stuff that really shapes who you are. I wanted to share something that has been playing on my mind lately, especially coming up to the holiday season. Maybe some of you guys can relate to my story.
I was born on November 3rd, the day before my father's birthday. I was his first daughter (I have two older brothers from his previous marriage) and since I can remember I've always been told I was his "birthday present". Like most little girls, my dad was
my hero! He did not come from a rich family, and was the first of them to be university educated. When he was 17 he was actually picked out of the nine people every year to attend the
Scuola Normale Superiore di Pisa
, a highly acclaimed university in Italy. In 2005 he was awarded "Commendatore" which is the Italian equivalent of the British knighthood.
My dad and I were extremely close, we shared a lot of the same personality traits -- some were good (kindness, a big heart, compassion) and some were not-so-great (a fiery temper, mood swings, a perfectionist "type A" personality). This led to lots of arguments, disagreements and door-slamming but after five minutes when it all cooled down we would always forgive and forget - neither of us could hold a grudge! I loved and respected my dad so much that with pretty much everything I did, I strived for his approval.
Five years ago, my father was diagnosed with terminal cancer. I felt like my world was crashing down around me. I was in a relationship with someone who wasn't very supportive, who ignored me and made me feel like I wasn't good enough. Desperate to control something in my life, I turned to an eating disorder with all its "perfection" of numbers on a scale, calorie intake, measurements...the list of things which I could control were endless. Like most eating disorders, mine started with a diet. A need for order and perfection in a world which I seemed to be losing control of.
When my dad passed away two years after being diagnosed with bowel cancer, it was one month after our birthdays and two months after I had left home to study Fashion in a different country. When I returned to the UK after Christmas I hit an all-time low in my life. My mind was plagued with the guilt of leaving him right when he was at his sickest and suddenly I had no idea what I wanted to do. Getting up in the morning, showering, putting on make-up, even leaving the house all seemed so pointless without him. I felt like he had been stolen from me far too early and my motivation to stay positive and enjoy life had disappeared.
It was then that I discovered the wonderful world of the YouTube beauty community. I immersed myself into watching videos about beauty, style and all things girly and feminine. It was like an escape for me! After some time I whipped up the courage to make a few style & beauty videos of my own - creating a channel called "TheStyleDiet". I wanted to spread the word to women and girls who had suffered from negative body image like me, that starving yourself is not the answer and that how you dress/look after yourself physically does affect how you feel on the inside! My goal was to send out a positive vibe to all like-minded girls out there, specifically young teens because I knew how important it was to be self-confident and maintain a healthy body image.
Today I am happy, healthy and my YouTube channel & blog have become my full-time job. I also have written a book entitled "The Style Diet - A Positive Body Image Book" aimed at women and girls to promote dressing to suit your body shape, and how to love the way you look no matter what the shape or size. Of course my book is dedicated to my father, and I know he would have been proud of what I've accomplished. I truly want this post to prove to any of you who are going through a similar struggle that things DO get better and these curve-balls that life throws at us can only make us stronger. I hope my post will inspire some of you to get out there and do what you love, or what you feel passionate about. You can do anything you put your mind to!
*Comments turned off so you can go visit Anna on her blog
HERE
Check out Anna's YouTube channel
HERE.
Read her advice post on Casey's blog
HERE.
*And don't forget the current giveaway with over $200 in prizes
HERE!