For the past couple of months I have been working on a new project that I feel will make
a great impact on our communities.
With the help of some very important people, I'm excited to launch the project today!
Let me introduce you to...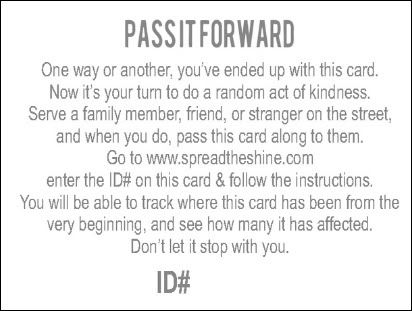 Pass It Forward was designed to get people to do little things, everyday, that makes an impact on the community around them. Pass it Forward is designed around a card. Each card is given a unique ID number. Lets say we're at McDonalds, and I decide to pay for the person behind me in the drive through. I'd give the cashier the card, and tell them to pass it along to the next car when the give them the food that has been paid for. I then go home and log into the website that was on the card, and find my unique ID number. I log into it, and add my information... My first name, city, and a description of what I did....
If the person behind me was you, you would pass it forward to someone else,
and then would go home and do the same thing.
From the very beginning, you will be able to track where your card goes, and how many people you affect just by doing one simple act of kindness.
Cards will be given with every purchase from the SHOP, or you can purchase a pack of 10 for very cheap from the shop as well. Portions of all proceeds go to the shine scholarship project, so you can feel good about your purchase.
I'm excited to see how many people we affect by doing this.
Imagine tracking your card, and over a period of time, seeing that 100 other people
had good things happen to them just because you did something simple.
On Fridays, I'll be sharing stories that were sent in to me about
how someone ended up with the card, or what a person did to pass it forward.
We're spreading The Shine Project as far as we can...
The more people it reaches, the more lives will be changed.
I am so grateful to have you on this journey.
If you would like to help spread this new project,
please share with your friends on facebook, twitter, pinterest...whatever.
We're changing the world, let's do it big.
If you'd like a button for your blog, here's a couple you can choose from!