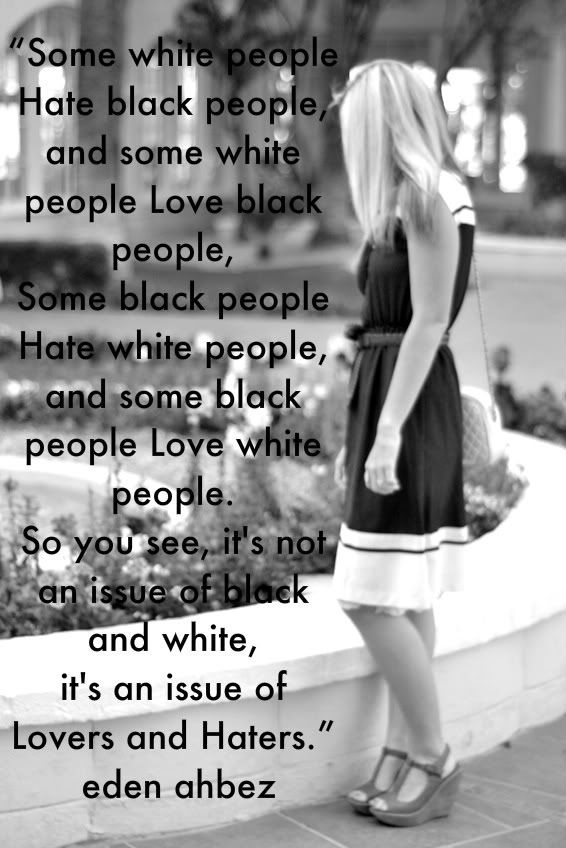 There's something that has been weighing on my mind the past several weeks. The nation has been blasted with the death of Trayvon Martin, a high school boy who was shot and killed unexpectedly while walking home one night. Because of the work that I do everyday, I took a particular interest to the case. I've read probably every article, watched every news interview, and have spent a lot of time thinking about my feelings on what happened. One word best describes how I feel about the Trayvon Martin case:
sick.
There are some people in the country that think racism is not as much of a problem as it used to be. That color of skin is looked past, and we all just love each other. If that was the case, then a black, unarmed high school student's killer would have already been arrested. If that was the case then my inner city students would have as much money put into their programs as the predominantly white schools. I'll never forget a situation that happened last summer. I went on a trip with the football team of an inner city high school to San Diego for a football camp. My mom actually planned and raised money for the whole thing. Most of the kids had never stepped foot outside of Arizona, and were so excited to see the beach for the first time.
After a day at the beach, I had never seen these kids so excited and
happy.
When it was time to go, the students were walking over to the bus in the parking lot. A white woman came out of nowhere and said to the boys,
"If anything happens to my car, I'll know who did it now."
They ignored her and kept getting on the bus. Two of her biker buddies pulled up on their bikes.
They started yelling at the kids, and then one of them looked at the biggest kid
on the team and yelled,
"What are you looking at N*****".
My student's whole presence changed.
Words hurt as bad as physical abuse, and sometimes the sting of it stays longer.
The man on the bike reached into his jeans to pull out a gun, just as we ran over screaming at the kids
to get on the bus. When the bikers saw these kids were with a bunch of white people, they quickly rode away, and we all left. The boys were shaken up, and I was devastated that the harsh reality of racism was felt even on a day that these boys had been looking forward to for a very long time.
You can't run away from racism.
I've heard skeptical people say that a man wouldn't just shoot Trayvon with no reasoning; that Trayvon
must
have provoked him in some way.
To those I say, hate knows no boundaries.
I've seen it first hand.
I am disappointed in the way the justice system has handled his case. If racism exists in those who run and facilitate our country, then who can we trust? I want justice for this boy who lost his life so early. I want justice for all the kids who have shared with me stories where hate has affected them, I want justice for all of those whose stories I haven't heard, and I want justice for all of those who will never be able to tell them.
It physically makes me hurt to know that people are so full of hate, that they ruin and go as far as taking another's life. If people have a problem with those of other races and cultures, let's talk about one big race that we all belong to for a second.
The human race.
There are some people who make me embarrassed to belong to this human race, and others who make me so, so proud.
Racism shouldn't be brushed under the rug. Fighting it should be done in peace. And I'll fight it until the day I die.
*I am grateful to all of you who do the same.
Dear Trayvon,
I can imagine that in the next couple of years you would have gone to college. You were a football player, maybe you would have taught your own sons to play. Hate took that away from you. But guess what? You might have left this world feeling hated and scared, but people from all over the country have come together to celebrate you and bring you justice.
You are loved, Trayvon.
And now God will mend all the pain you felt while you were here. Your story has touched my heart. We wont stop fighting to end the war of hate.
Thank you for being at its forefront and opening more eyes to the problems this country faces.
Bless you.